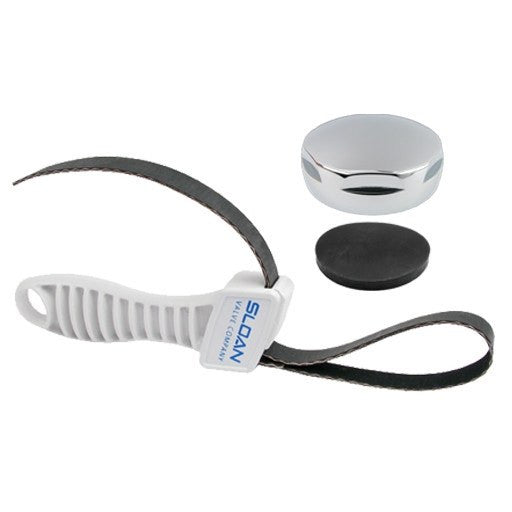 G2 Handsfree Conversion Kit 1.28 GPF for Closet
Part Number: #81041
Sloan Model Number: RESS-C-1.28
Sloan Code Number: 3325435
Manufacturer: Sloan 

This G2 Handsfree Closet Conversion Kit is used to convert a Royal or Regal Closet Flushometer to a G2 1.28 GPF Flushometer. By using a conversion kit, it is a cost effective way to convert your pre-existing Royal or Regal flushometer to a G2 without having to replace the entire unit. 1.28 GPF, Polished Chrome Finish, Fixture Connection Top Spud, Single Flush, Battery, G2 Exposed Sensor Water Closet Retrofit Flushometer.
The parts that make up this conversion kit are the following:
#08701 - Cover Assembly with Override Button

#08715 - Override Button Assembly
#08705 - Lens Window Cover

#08421 - Locking Ring
#08697 - Module for Closet
#08702 - Plastic Sub Base
#08720 - Base with Solenoid
#83565 - 1.28 GPF Diaphragm Assembly
Specifications:
• Flush Volume: 1.28 GPF 
• Finish: Polished Chrome
• Power Type: Battery
• Battery Life: 6 years
• Valve: Diaphragm
• Valve Body Material: Semi-red Brass
• Fixture Type: Water Closet
• Fixture Connection: Top Spud
Features:
• User friendly three (3) second Flush Delay
• "Low Battery" Flashing LED
• Infrared Sensor with Multiple-focused, Lobular Sensing Fields for high and low target detection
• Flex Tube Diaphragm designed for improved life and reduced maintenance
• Engineered Metal Cover with replaceable Lens Window
• Diaphragm to be molded from PERMEX Rubber Compound for Chloramine resistance
• Courtesy Flush® Override Button
• Handle cap included
• Four (4) Size AA Batteries included
Compliances & Certifications:
ADA Compliant, BAA Compliant, BREEAM Water Credit, cUPC Certified, cUPC Green Certified, Green Globes Water Credit, Satisfies LEED Credits
Resources:
View Sloan 3325435 Spec Sheet