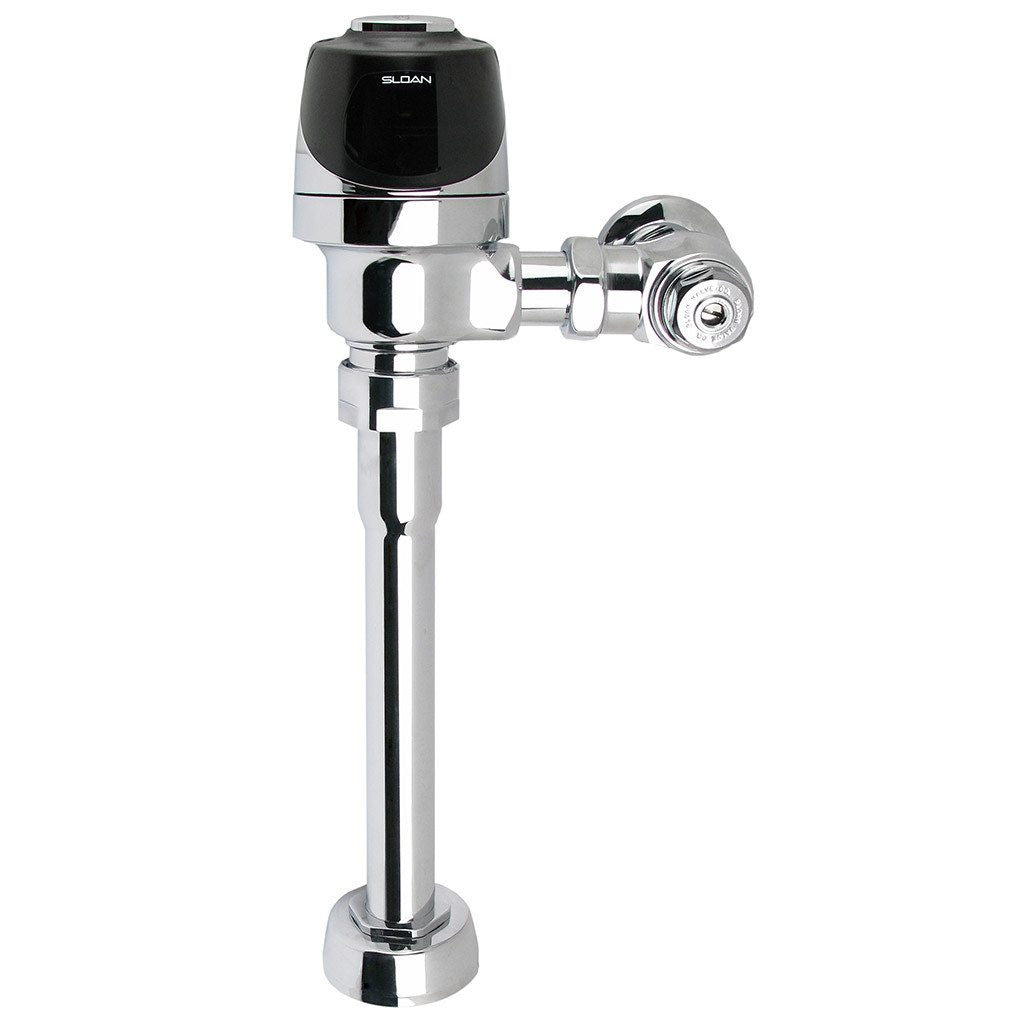 G2 Handsfree Flushometer 1.5 GPF for Urinal with 1-1/4" Top Spud
Part Number: #08422
Sloan Model Number: G2 8180-1.5 
Sloan Code Number: 3250409
Manufacturer: Sloan 
1.5 GPF, Polished Chrome Finish, Fixture Connection Top Spud, Single Flush, Battery, G2 Exposed Sensor Urinal Flushometer.
Specifications: 
• Flush Volume: 1.5 GPF
• Finish: Polished Chrome
• Power Type: Battery
• Battery Life: 6 years
• Valve: Diaphragm
• Valve Body Material: Semi-red Brass
• Fixture Type: Urinal
• Fixture Connection: Top Spud
• Rough-In Dimension: 11 1⁄2"
• Spud Coupling: 1-1/4"
• Supply Pipe: 1"

Features:
• Sweat Solder Adapter with Cover Tube and Cast Set Screw Wall Flange
• Flex Tube Diaphragm designed for improved life and reduced maintenance
• Infrared Sensor with Multiple-focused, Lobular Sensing Fields for high and low target detection
• "Low Battery" Flashing LED
• Fixed Metering Bypass and No External Volume Adjustment to Ensure Water Conservation
• Handle Packing, Main Seat, Stop Seat and Vacuum Breaker Molded from PERMEX® Rubber Compound for Chloramine resistance
• Engineered Metal Cover with replaceable Lens Window
• Four (4) Size AA alkaline Batteries included: Duracell® with DURALOCK Power Preserve TechnologyTM-guaranteed for up to 10 years in storage
• Courtesy Flush® Override Button
• 3/4" I.P.S. Screwdriver Bak-Chek® Angle Stop with Free Spinning Vandal Resistant Stop Cap
• PERMEX® Synthetic Rubber Diaphragm with Dual Filtered Fixed Bypass
• Initial Set-up Range Indicator Light (first 10 minutes)
• Latching Solenoid Operator
• ADA Compliant Battery Powered Infrared Sensor for automatic "Hands-free" operation
• Flush accuracy controlled by CID® technology
• Spud Coupling and Flange for 1 1/4" Top Spud
Compliances & Certifications:
ADA Compliant, cUPC Certified, BAA Compliant, UL Certified
Resources:
• Sloan 3250409 Spec Sheet
• G2 Parts Breakdown and Troubleshooting Guide
Do you have the tools needed to install your new flush valve? View our Flushometer Tool Guide and discover which tools you need.