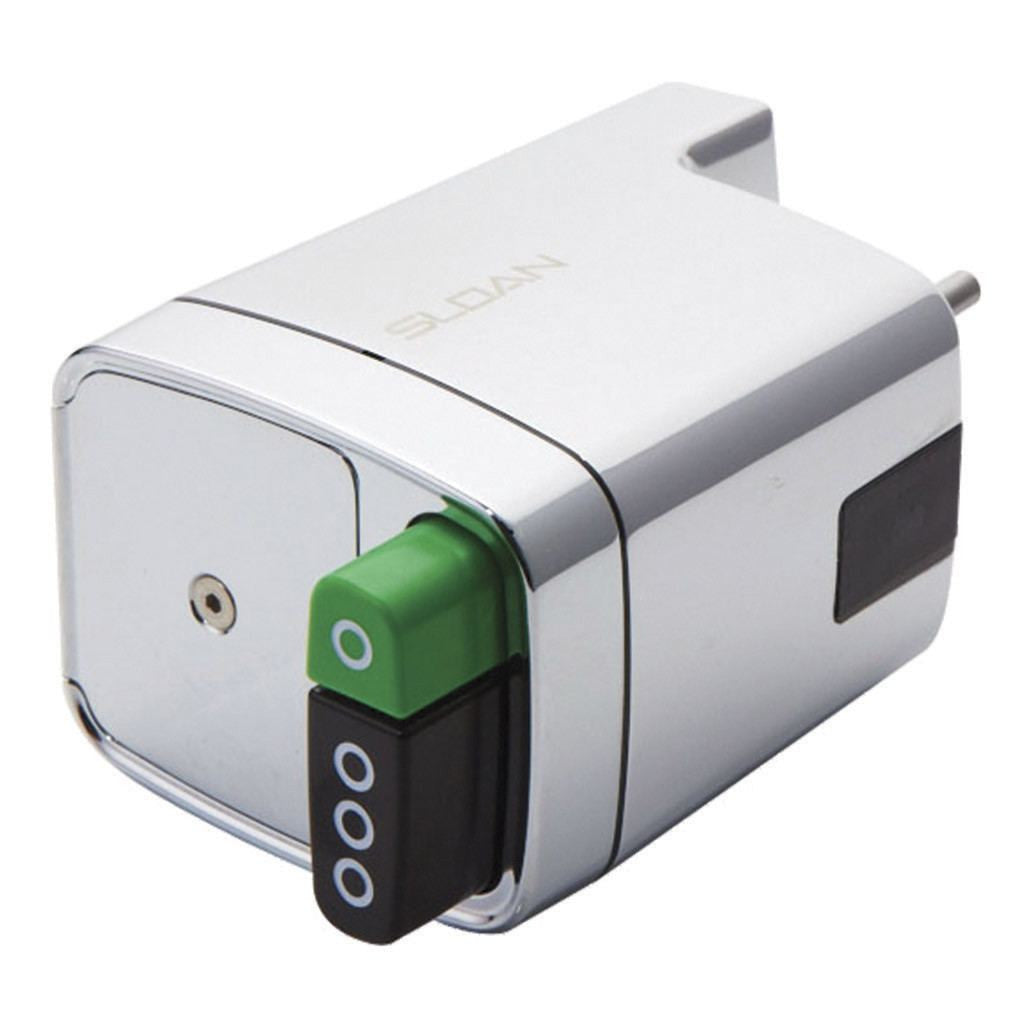 Sloan EBV-550-A Dual Flush Side Mount Operator
Part Number:
#85605 
Sloan Model Number: EBV550A-1.6/1.1
Sloan Code Number: 3325501 
Manufacturer: Sloan 

Battery-Powered, Sensor-Activated, Dual-Flush Retrofit Conversion Kit for Exposed Closet Flushometers
.
A Sloan dual flush retrofit can be installed in place of existing Sloan Flushometers quickly and easily as all the main components come fully assembled. 
Can be installed on current valve handle on the left or right side.
This Sloan side mount "true mechanical override" valve is an easy retrofit into your existing system. It incorporates the newest Sloan Dual Flush Sensor Smart Sense Technology™ which is capable of deciding how much water to use per flush, determined by the length of time the user remains in the sensing zone. If more than 60 seconds has elapsed, 1.6 gallons is delivered, while less than 60 seconds will provide only 1.1 gallons of water, thereby saving more than 30% in water usage. This side mount operator is also fitted with manual override buttons that allow the user to choose either the maximum or minimum flush amount at their discretion. Another useful feature of this unit is an automatic 24-hour sentinel flush, which is a periodic flush that helps keep the unit clean. 
Specifications:
• Installation Type: Side Mount Retrofit
• Sensor Type: Multi-Lobular Infrared Sensor featuring Dual Flush Volume Infrared Convergence Type Object Lock Detection
• Sensor Range: Factory Set at 22-42 inches
• Indicator Lights: User in View and Low Battery
• True Mechanical Override: Non-Hold-Open True Mechanical Override Full Flush Button
• Smart Sense Technology: Included
• Service Mode: Included
• Sentinel Flush Mode: 72 Hour Sentinel Flush
• Operating Pressure : 25-80 PSI
• Application: Closet Applications
• Feature Water Saving Option
• Battery/Type: Four (4) C alkaline Batteries included
• Hardwire Option Available: Yes - Side Mount Operated True Mechanical Override Dual Flush Retrofit - Hardwired Part #87853
Compliances & Certifications:
ADA Compliant, BREEAM Water Credit, cUPC Certified, Green Globes Water Credit

Resources:
• View Sloan 3325501 Spec Sheet
• View Sloan 3325501 Installation Instructions
• Sloan Retrofit Kit Flushometer Comparison Guide
• Sloan Side Mount Light, Range, and Calibration Blog

Place your order or learn more about this product by speaking to one of our knowledgeable product specialists. Give us a call at 800-442-6622 (7:30AM-5PM EST). We will help you find the absolute best unit to fit your needs along with great customer service!