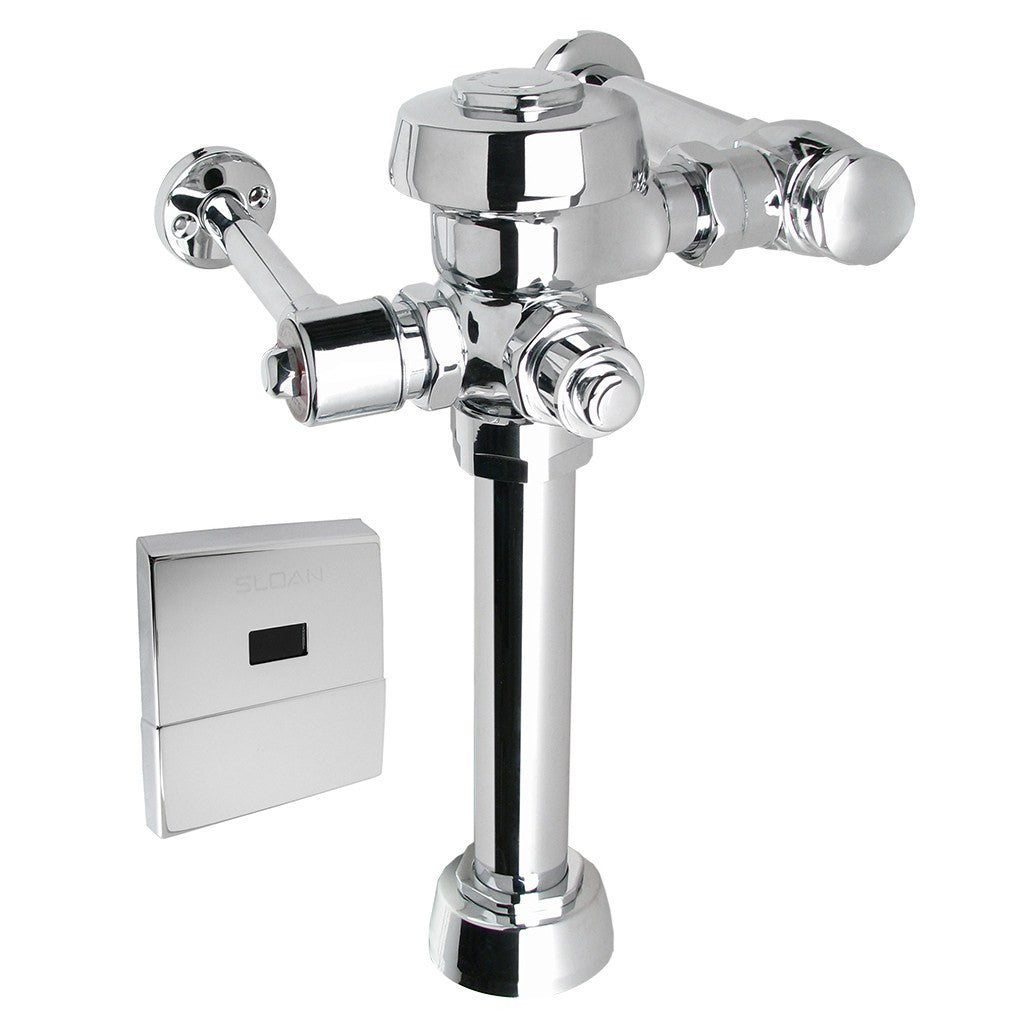 Royal ESS TMO Sensor Flushometer 1.28 GPF for Closet
Part Number: #83402
Sloan Model Number: ROYAL 111 ESS-1.28-TMO
Sloan Code Number: 3450055
Manufacturer: Sloan

1-1/2" Vacuum Breaker 1" Stop
Specifications:
1.28 GPF exposed, sensor activated diaphragm type, chrome plated closet Flushometer for either left or right hand supply and vitreous china wall hung water closet with the following features:

Flushometer and OPTIMA® ES-S TMO Unit:
• PERMEX® Synthetic Rubber Diaphragm with Dual Filtered Fixed Bypass
• OPTIMA® EL-1500-L Self-Adaptive Infrared Sensor with Indicator Light
• "Walk By" Delay of Eight (8) Seconds Prevents Unintentional Flushes
• User friendly three (3) second Flush Delay
• Courtesy Flush® True Mechanical Override Button
• Non-Hold-Open Integral Solenoid Operator
• Chrome Plated Wall Cover Plate and Die Cast Wall Flange (for 2-gang Electrical Box) with Vandal Resistant Screws
• High Back Pressure Vacuum Breaker Flush Connection with One-Piece Bottom Hex Coupling Nut, Spud Coupling and Flange for 1-1/2" Top Spud
• High Copper, Low Zinc Brass Castings for Dezincification Resistance
• Non-Hold-Open Integral Solenoid Operator,Fixed Metering Bypass and No External Volume Adjustment to Ensure Water Conservation
• Flush Accuracy Controlled by CID™ Technology
• Diaphragm, Stop Seat and Vacuum Breaker to be molded from PERMEX® Rubber Compound for Chloramine Resistance
• Valve Body, Cover, Tailpiece and Control Stop shall be in conformance with ASTM Alloy Classification for Semi-Red Brass. Valve shall be in compliance with the applicable sections of ASSE 1037.
Fixture:
• Wall hung vitreous china elongated bowl
• Siphon jet flushing action
• 1-1/2" I.P.S. top spud inlet
• 2-1/8" fully glazed trapway diameter
• Integral flushing rim
• Water spot area 9-1/2" x 8-1/4"
• 24 volt system
• Mounting hardware, carrier and toilet seat not included
• Compatible with toilet seat models: Bemis 1955CT, Bemis 2155CT
• Water closet shall be in compliance to the applicable sections of ASME A112.19.2/CSA B45.1
• Compliant with the Buy American Act when purchased as a combination

Resources:
• View Sloan 3450055 Spec Sheet 
Do you have the tools needed to install your new flush valve? View our Flushometer Tool Guide and discover which tools you need.